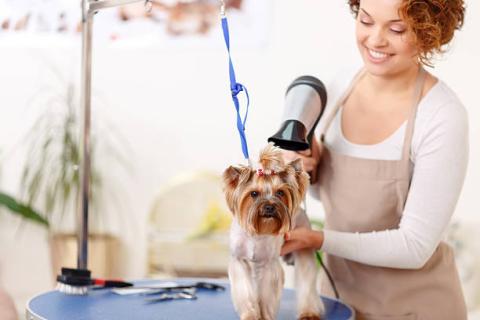 Pet Grooming courses are currently on hiatus, but will be returning Winter of 2024.
Professional Pet Grooming is made up of three courses that total 115 hours of training. Students must complete all three courses to receive a certificate of completion. Individual certificates are not awarded for individual course completion. Students must take the classes in the following order: Principles of Professional Pet Grooming, Professional Pet Groomer Practices Part I, Professional Pet Groomer Practices Part II. 
Topics include:
Fundamental Principles and Terminology of Pet Grooming including grooming equipment, dog behavior, anatomy, breed classes and more.
Professional Pet Groomer I & II focuses on bating, brushing, and grooming techniques for different breeds
 
Course Requirements:
Students must have attendance of 90%.
Students must pass all required exams at 70% or higher (final exam, practical exam, and portfolio). 
Students must complete the course required grooming hours (25 total) to receive a certificate of completion.
Students must complete 10 hours in a grooming salon which is mandatory for course certificate of completion. 
Students are require to purchase course equipment ($999).
 
Scholarships:
Scholarships are available and may cover all or part of the program cost. For more information or to apply now, click here.