Washington County Maryland WorkKeys Designation
Washington County Maryland WorkKeys Designation
Washington County is the first in Maryland to earn the ACT's Work Ready Community designation. This designation empowers Washington County data, processes, and tools that drive economic growth. Participants are leveraging the ACT® WorkKeys® National Career Readiness Certificate® (NCRC®) to measure and close the skills gap — and building common frameworks that link, align and match their workforce development efforts.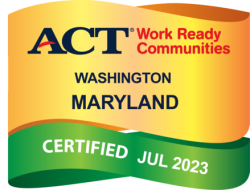 What is the ACT WorkKeys® Initiative?
WorkKeys is a system of assessments, curriculum, and skills profiling that build and measure essential workplace skills that can affect job performance and increase opportunities for career changes and advancement. Additionally, WorkKeys can be used to develop and evaluate training and educational needs; thereby, further creating a more effective and efficient workforce.
The WorkKeys System Is A Four-Part System, Which Consists Of:
Want To Learn More?
Need some prep before taking the test?
WorkKeys Prep
This course prepares the student to earn the National Career Readiness Certificate by achieving a Silver level on the WorkKeys assessment. Students will meet in HCC's Learning Support Center to learn about WorkKeys and will complete a pre-test assessment. With the scores earned students will be assigned lessons on Applied Math, Graphic Literacy, and Workplace Documents. The lessons are delivered via a personalized, mobile-based learning management system. The platform delivers a meaningful learning experience and provides a customized study schedule and detailed instructional content. Students completing of 30 hours of test prep (at level 4 or higher) will receive a 50 percent discount on the WorkKeys assessment taken in the HCC Testing Center.
WorkKeys Prep Courses
WorkKeys Prep Courses
Core Community Partners: