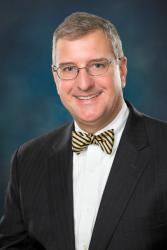 Hagerstown Community College is the first of its kind in Maryland. From its founding in 1946 until today, we strive to meet students where they are and help them to meet their education and career goals. We are a true community college, with classes offered on campus, online, in our high schools, and even in the workplace.
Our goal is student success, and we provide the support necessary through a caring environment that helps students succeed. We meet that goal through professional faculty who are committed to doing everything they can to see students succeed. We provide an abundant array of student support services, like our Student Learning Center, to give students every opportunity to get help when needed.
For more than 70 years, we have been the choice of tens of thousands of students and alumni. We are the college where you can stay close and go far!
Yours truly,
James S. Klauber, Ph.D.
President