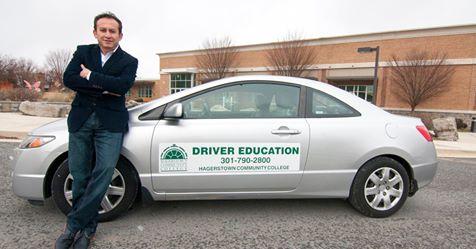 Welcome to the driving school at Hagerstown Community College (HCC). HCC's Driver Education Program is licensed and certified by the Maryland Motor Vehicle
Administration (MVA) to provide you or your teenager training under the state Graduated Driver Licensing Law. Experienced instructors licensed by the MVA and vehicles modified for training help the new or inexperienced driver learn the state requirements for becoming a safe driver. 
What you need to know: 
 Driver Education includes 30 hours of classroom training, six hours of behind-the-wheel driving, and is required by the state of Maryland for all Maryland drivers obtaining their first license. 
The classroom instruction will include a discussion of space management, basic maneuvering, reducing risks, and personal factors influencing operator performance and collision avoidance. 
Student driving sessions are scheduled on-on-one and include basic car control, parallel parking, and a variety of roadways.
The first Driver Education classroom session will include a mandatory orientation and will acquaint students with the school's requirements and components of Maryland's Graduated Driver Licensing Law. Attendance at the first day orientation is strongly encouraged for parents and/or mentors, but is required for students. If a student misses his or her Driver Education orientation, he or she cannot continue in that particular session and must sign-up for another driver education course per Maryland MVA policy.
Students should bring their learner's permit to their Driver Education Orientation. A learner's permit is a State of Maryland requirement to complete the entire driver education course. For students without a valid learner's permit, the MVA has established an online document guide to assist customers in determining what documents they need to provide in support of the more common licensing functions. You can access the guide at http://mvadocumentguide.mva.maryland.gov.
Driver education classes are available at HCC's main campus and at HCC's Valley Mall Center.
Spring 2023
Summer 2023