Registration for Non-Credit Classes
Registration for Non-Credit Classes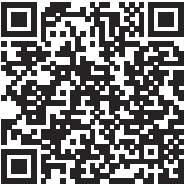 Hagerstown Community College Workforce Solutions & Continuing Education (WSCE) is transitioning to new registration system called Instant Enrollment. This service provides more user-friendly mobile navigation for course registration for WSCE. Multiple browsers are supported and payment will be due upon registration.
New Students
There is a required $8 registration fee per course.
Courses could have additional materials and/or book costs in addition to tuition and registration fees.
60+ Students are eligible for senior discounts (in-state students).
New students will create a new profile online prior to completing registration/payment for courses saved in the cart.
Have your course number ready and access this link or use your mobile device to scan the QR code
 
Returning Students
Information provided as a returning student that registers as a guest is used to verify student's identity, but does not get updated on the student account.
If student information has changed since first registered at the college, please email Registration at: ceregister@hagerstowncc.edu or call Registration at 240-500-2236, ext.1, to ensure HCC has accurate contact information.
Have your course number ready and access this link.
 
New & Returning Youth Programming Students (formerly CFK)
Registration Opens on 15 February.
Early Bird $15 discount is available until March 31.
All Health and Student forms will be collected by CampDocs. Please make sure you provide a valid email address when registering for a College for Kids course. Check your inbox for an email from register@campdoc.com. If you do not receive an email from CampDocs within a few days of registering, please email cfk@hagerstowncc.edu.
College for Kids or Discovery Academy students will need to be registered individually. Note- Parent(s) or Guardian(s) please remember to not use your name and/or DOB to register the student.
 
Login Issues
Call the Instant Enrollment help desk at 240-500-2891; text, 240-329-4489, or email, hccit@hagerstowncc.edu. 
For assistance with registration, contact 240-500-2236.
Register for Credit Classes
Registration for credit classes is done through Self-Service. Learn more about Self-Service and registering for credit classes.