HCC's Big Read: Walking to Listen
HCC's Big Read: Walking to Listen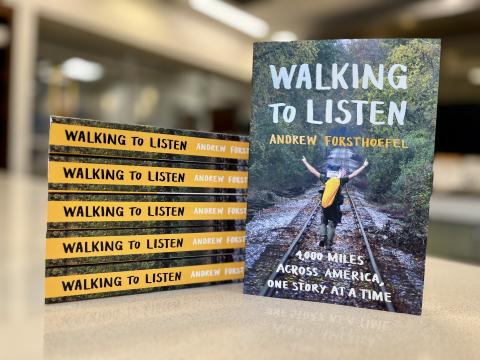 Hagerstown Community College is happy to announce its second annual Big Read initiative, open to all students, faculty, staff, and the community. The 2023 Big Read is Walking to Listen: 4,000 Miles Across America, One Story at a Time. The book is a memoir by Andrew Forsthoefel of his cross-country trek-told through the stories of the people of all ages, races, and inclinations he meets along the highways of America. 
At twenty-three, Andrew Forsthoefel walked out the back door of his home in Chadds Ford, Pennsylvania, with a backpack, an audio recorder, his copies of Whitman and Rilke, and a sign that read walking to listen. He had just graduated from Middlebury College and was ready to begin his adult life, but he didn't know how. So he decided he'd walk. And listen. It would be a cross-country quest for guidance, and everyone he met would be his guide.
Walking toward the Pacific, he faced an Appalachian winter and a Mojave summer. He met beasts inside: fear, loneliness, doubt. But he also encountered incredible kindness from strangers. Thousands shared their stories with him, sometimes confiding their prejudices, too. Often he didn't know how to respond. How to find unity in diversity? How to stay connected, even as fear works to tear us apart? He listened for answers to these questions, and to the existential questions every human must face, and began to find that the answer might be in listening itself.
Ultimately, it's the stories of others living all along the roads of America that carry this journey and sing out in a hopeful, heartfelt book about how a life is made, and how our nation defines itself at the most human level.
Get the Book
Paper copies of the book are available through HCC's Campus Store and the Brish Library, as well as the Washington County Free Library. The book is also available for purchase online. 
Community Events
Author Event at HCC - HCC will host a Big Read event with author Andrew Forsthoefel, on Thursday, March 23 at 10 a.m., in the Kepler Theater. Guests will get a closer look into Andrew's quest for guidance and the stories of others living along the roads of America. Bring your book to ask questions and get a free booksigning! 
Reading Workshops - The Washington County Free Library will host workshops leading up to the Big Read event. For more information, click here. 
Walking with the President - Inspired by the HCC Big Read book, "Walking to Listen" by Andrew Forsthoefel, this event will be led by HCC President Jim Klauber on Wednesday, April 19, 2023. It will provide an opportunity for participants to walk together on the tow path and listen to the stories of others they meet along the way. The walk will begin at 3 p.m. at the C&O Canal. Transportation will be available from HCC, the bus will be leaving at 2:30 p.m.
Meet the Author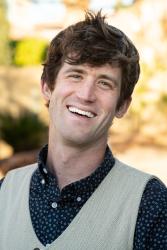 Andrew Forsthoefel is an inspirational speaker and group facilitator, a humanist chaplain, and the author of Walking to Listen, a critically acclaimed coming-of-age memoir about his 4,000-mile across America. His memoir has been used as an All-School Read / First-Year Seminar text at high schools and universities across the country, and his narrative work has appeared on This American Life and The Moth. 
Andrew works with groups of people at schools and nonprofits to build listening-based cultures of empowered vulnerability and authentic inclusion. His keynotes and workshops are designed to support the members of a community in connecting more deeply with themselves and each other through the diverse interface of their humanity.
Andrew lives part-time in Portland, Maine, where he is a secular chaplain at the Good Medicine Collective, a nonprofit which provides transformational spaces for healing personal and collective trauma in community settings. He has a private coaching practice and offers mentorship to young people, with a focus in young men. He is currently writing his second book, a memoir on masculinity.
To learn more, click here. 
"The ideal antidote for even the strongest bout of national doubt...[with] frequent descriptive gems."
- Washington Post
More Information
To learn more about HCC's Big Read initiative, contact Alicia Drumgoole.