Our Four Pillars for Student Success
Endowing New Student Scholarships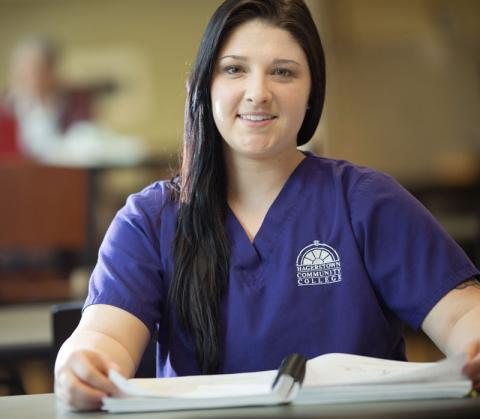 The HCC Foundation currently awards nearly $500,000 in scholarships each year. To strengthen our community impact, our vision is to double that amount to $1,000,000 in 5 years. With seventy percent (70%) of our students eligible for some sort of financial assistance, there are currently more worthy students than there are funds available.
The Value of HCC Scholarships
Earning a scholarship at HCC is incredibly valuable for students. The maximum award of $1,300 covers nearly half of a full-time student's tuition expenses, which would only pay for 14% of tuition at a four-year state institution for the same 12 credits.
Your impact will benefit a student population that is comprised of:
10,000 + credit and non-credit students enrolled annually
80% Maryland residents (74.5% from Washington County)
2 of 3 students receive financial aid
27.6% minority students
66% female, 34% male
Do you have a particular field or program for students at HCC that you would like to see strengthened? Explore our more than 100 degrees, certificates, and non-credit certification programs offered here.
Strengthening Student Services
Pursuing education and workforce training is as hard today as it ever was, and students require additional support to help them succeed. HCC seeks to ensure that tutoring, emergency financial aid, or items from our food pantry are there for all who need them. We also want to establish new awards to help defray other college-related costs and fees that create additional barriers to success.
HCC's Helping Hands Student Food Pantry and Storeroom
Food insecurity is an issue that affects an estimated 46% to 56% of community college students each year – and this figure is before the complications of the pandemic. Offering goods and products at HCC's Helping Hands Student Food Pantry and Storeroom is our way to ensure students are able to address their needs without feeling judged, so these students can fully focus on their education.
HCC's Helping Hands Student Food Pantry and Storeroom is available to all students, regardless of income. The pantry is stocked with non-perishable foods as well as household necessities for students and is used an average of 30x a week.
The Halo Fund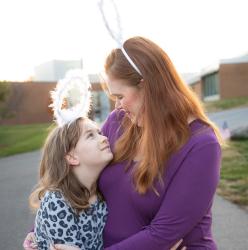 The pandemic has unfortunately revealed the vulnerability of our population, introducing the need for a consistent bank of emergency funds to assist students' facing hardships. The newly established Halo Fund provides students who have exhausted all other resources with assistance in situations such as job loss, homelessness, or transportation issues.
The pandemic affected students like Katy Smith the hardest. Not only a Radiography student at HCC, but also as a mother, Katy struggled when her family got COVID, especially to keep up with the constant stream of bills while she wasn't working. If it weren't for the Halo Fund to provide Katy with critical assistance for child care, Katy would've been forced to drop out of college.
Expanding these services provides hope for our students who need HCC's communitive support the most.
Workforce Training for a Strong Region
Career certifications have grown significantly in scope and importance in today's workforce. These "quick start" training programs enable people to get a job now, then apply that certification toward a degree when they are ready. Scholarship endowments to fund these noncredit programs will create pipelines to local employers and benefit us all.
Expanding Vocational Programs at HCC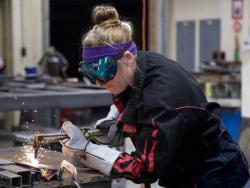 An exciting expansion of HCC's Workforce Solutions department is in the works: The Bowman Family Workforce Training Facility. This training center will include a partnership with the Associated Builders and Contractors of Cumberland Valley, as well as career guidance and services, to ensure that all students receive superlative education and support to enhance the human capital of our region.
To date, HCC has been able to offer only a few scholarships for non-credit programs, such as those offered in the Workforce Development branch of the College. HCC wishes to create numerous Workforce Solutions scholarships through the 75th Anniversary Campaign to make available to more than the 5,000 annual non-credit students.
Contribute to the future success of students in programs within the Bowman Family Workforce Training Facility such as:
Commercial truck driving
Diesel technician
Construction trades
Welding technology
Supporting our Athletic Programs
HCC has a long history of producing nationally-recognized athletic champions. HCC fields competition in 10 disciplines: basketball, baseball, cross country, golf, indoor track, outdoor track, soccer, softball, and volleyball.
Why Community College Athletics Matters:
Competing at the community college level can give athletes time to hone the talent and skills needed to compete at a four-year school and can boost academic readiness for students who might need extra support to excel in school and on the field. Access to top notch coaching, academic support, and first-rate facilities helps keep community college athletics appealing to student athletes.
Athletic scholarships can provide a necessary route for individuals to receive an education at an affordable cost – helping create pathways to economic mobility and personal success through degree completion and athletic achievement. HCC athletes go on to be successful at four-year schools, in professional athletics, and in their desired career paths.
Competition on the field of play today forges better leaders for tomorrow. Goals for the 75th Anniversary Campaign include:
Growing the scholarship assistance that we provide our student athletes;
Improving our athletic facilities for our teams, for students pursuing education in HCC's Exercise Science & Health Division, and the Hagerstown community;
Gifts to Athletics support new and existing scholarships, provide matching funds for new athletic facilities and facility upgrades, and support services, activities, and programs for student athletes. To learn more about HCC Athletics, visit the official athletics webpage.