Hagerstown Community College's Planned Giving Society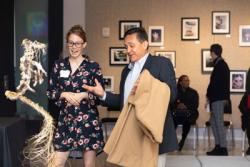 The 1946 Society exists to recognize and extend the College's appreciation for generous donors who wish to include the Hagerstown Community College Foundation in their estate plans. Benefits of membership in the 1946 Society include:
A role in determining how your legacy gift will be used, such as establishing your own named scholarship with your selected recipient criteria
Invitations to exclusive 1946 Society events, such as socials, brunches, evening cocktails, and student-focused gatherings
Special acknowledgement in the College's Annual Report and at the annual Donor Recognition Event
Opportunities for public and permanent recognition of your gift
 
Legacy giving allows you to pledge a gift that will create a future benefit for HCC, while allowing you to preserve your financial security and minimize the financial impact of your gift during your lifetime. Legacy gifts can include:
Naming the HCC Foundation Inc. as a beneficiary in your will
Outright donations of real estate, securities, or other assets associated with your estate
Charitable trust arrangements such as annuities, revocable and irrevocable life trusts, donor advised funds, and charitable remainder trusts
Naming the HCC Foundation Inc. as a beneficiary of your life insurance policy
 
Becoming a member in the 1946 Society is as easy as filling out a letter of intent. To become a member in this exclusive club, please contact the office of College Advancement at 240-500-2348 or collegeadvancement@hagerstowncc.edu.
FAQ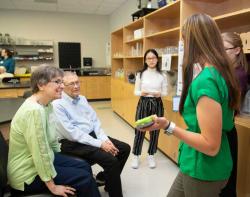 I already have the Hagerstown Community College Foundation in my estate plans, but I have yet to document it with the College. What if I wish to remain anonymous?
Your wish to remain anonymous will absolutely be respected. If you would like to forgo the public recognition, it is still important to share with us how you would best like your gift used. We want to put your gift towards what you are most passionate about in serving the students of Hagerstown Community College.
Why do I need to list the Hagerstown Community College Foundation in my estate plans rather than the College?
It is important to list the Hagerstown Community Foundation Inc. as the beneficiary to your estate gift because the HCC Foundation Inc. is responsible for the endowment of funds for the College.
What information do I need to provide to my financial advisor to ensure that the Hagerstown Community College is in my estate plans?
Please make your financial advisor aware that your planned gift is to be donated to the Hagerstown Community College Foundation. The Employer Identification Number (EIN) for the Foundation is: 23-7121670